Landmark Productions in association with MCD presents
the world premiere of
October
by Fiona Looney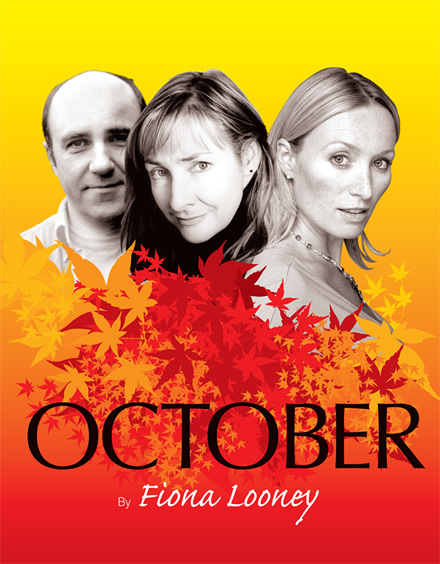 Three years ago Irish audiences fell in love with Noirin Dawson (Pauline McLynn) and her friends and neighbours in the smash-hit, sold-out show Dandelions. Now she's back, several years later, with a grown-up daughter and none the wiser about just what's coming down the tracks.
In Fiona Looney's gloriously funny, bittersweet follow-up, October, she's joined by a star-studded cast, including Lorcan Cranitch (Ballykissangel, Cracker), Ailish Symons (Bachelors Walk, The Clinic) and, making her first stage appearance in Ireland, Victoria Smurfit, who plays her younger sister Carole – back from London, complete with Jimmy Choos, a Prada handbag and a newly acquired 'e' at the end of her name.
Is blood thicker than water? What is a grown woman doing on a bouncy castle? And what does the Child of Prague have to do with anything?
It could only be Fiona Looney's October … in the Olympia, in February.

AUGUST 1 August 2008
Sunday 10th, 8.30 – event at Edinburgh International Book Festival with Laura Marney

8 May 2008
MAY
Saturday 10th
1.45: Cork library event, City Hall, Straight Road
Saturday 17th
10am: event at Daphne du Maurier Festival, Fowey, Cornwall

5 March 2008
MARCH
March 8th – reading at Yeat's Building, Sligo, 8pm, with Suzanne Higgins, as part of the Readers and Writers Festival there (and it's International Women's Day too)

10 February 2008
Monday February 11
Appearance on Matthew Wright TV show.
Appearance on LOOSE WOMEN.

19 December 2007
2008
JAM AND JERUSALEM series 2
Episode I = Jan I, BBC1
Episodes 2 – 6 = Jan 4 and onwards weekly, BBC1
(check press for times)
January 10 – publication of the mass paperback size version of BRIGHT LIGHTS AND PROMISES
THE TAMING OF THE SHREW
IRISH TOUR DATES
Jan 21 – 26 GALWAY
Jan 28 – 30 LETTERKENNY
Feb 1 – 2 LONGFORD
FEB 4 – 9 DUN LAOGHAIRE, Co Dublin
Feb 13 – 16 ENNIS
Feb 18 – 20 PORTLAOISE
Feb 22 – 24 TRALEE

17 November 2007
NOVEMBER
18th – presenting an award at the WRITERS' GUILD AWARDS London
28th – hosting a fashion show with Design Platform in the Marriott, Enfield, in aid of World Vision Ireland (of which I am Patron).

6 July 2007
JULY
16th: am presenting a book edition of RADIO CAFE live on Radio Scotland.

6 July 2007
AUGUST
1st : My short story IMAGINE is broadcast at 3.30 as part of the BE PREPARED season on Radio 4. There is a story daily from Monday 30th July to Friday 3rd August, inclusive. Enjoy!

2 July 2007
JUNE 2007
Bright Lights and Promises is published by Headline Review
Daily Express says
'Better known as Mrs Doyle from TV's Father Ted, the actress turned novelist has written a winner with this, her sixth novel… Pauline McLynn brings the same comic touches to her writing as she brought to the wonderful Mrs Doyle. She manages to deal with some serious subjects, such as death, old age and separation, but she does so with a lightness in her pen and a smile on her face. McLynn's experience of the acting world shines through. From the handsome leading man John Forbes to his aged father and veteran actor Reg Darwin, the cast of thespian characters give a wicked insight into the life of a jobbing actor'
Irish Independant says
'With a flourish McLynn has entered Maeve Binchy/Marian Keyes territory showing a real flair for writing comedy while delivering razor-sharp observations. This novel works on many levels and the author is not afraid to tackle issues such as single-parenthood, loneliness and the exhausting pace of our modern life. Acutely and sensitively observed, this is a very contemporary story told with style and sparkling good humour. You'll like it.'
The Observer recommends it as a holiday read saying
'equally amusing is BRIGHT LIGHTS AND PROMISES by Father Ted's Pauline McLynn, set in the melodramatic world of a London theatrical agency.