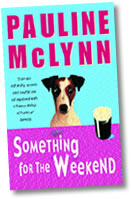 When private investigator Leo Street is sent away to County Kildare to spy on the supposedly cheating wife of a loathsome client, she's delighted to be getting away from rainy Dublin and her hopeless, permanently resting actor boyfriend Barry. The one catch is that she has to masquerade as a member of a cookery course and the only piece of culinary equipment Leo can handle is a tin opener. 'Weekend Entertaining Part One' is daunting to say the least.
As she strips away layers of marital infidelity – not to mention several other scandalous secrets – she battles with bread-making and brûlée. But where will it all end – in triumph or tragedy?
Pauline McLynn, who shot to fame playing Mrs Doyle, the priests' potty housekeeper, in Father Ted, introduces us to an irresistible heroine in her hilarious first novel, Something for the Weekend.
'Something for the Weekend introduces an amiable anti-heroine who clearly has a great deal of life in her'
The Times
'A fabulously funny novel'
Sunday Independent
'Packed with cheeky sarcasm and wit'
Company
'An upbeat, chatty novel'
Daily Mail
'A novel that demonstrates a sure ear for dialogue'
Marie Claire
'Lively characters – satisfying authenticity'
Image
'A breezy, humorous debut, a fast-moving, entertaining read'
Sunday Tribune
'A wonderfully warm, witty debut, with one of the most engaging Irish characters in a long time'
Sunday Business Post
'Scandal, infidelity, secrets and soufflé are all explored with a healthy dollop of humour'
Express